A useful overview of possible applications, transport routes, production and storage options for hydrogen, important cost factors in its production and prerequisites for the use of green hydrogen on a larger scale.
In addition, pilot projects in Austria are presented that show the diverse use of hydrogen in practice and innovative approaches of domestic companies.
Period: August 2021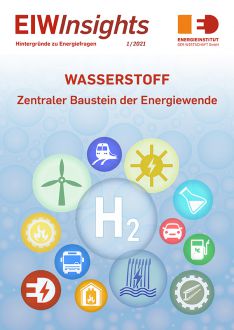 Seven questions about hydrogen
Foreword: H₂ as a carrier of hope
Hydrogen - a central element of the energy transition
Production of hydrogen
Transporting and storing hydrogen
Hydrogen in Austria's climate strategy
Green gas
Where is hydrogen needed?
How much does green hydrogen cost?
Cross-border hydrogen network
Conclusion: The path towards a hydrogen turnaround
This edition of EIWInsights was produced with the kind support of the Austrian Federal Economic Chamber.